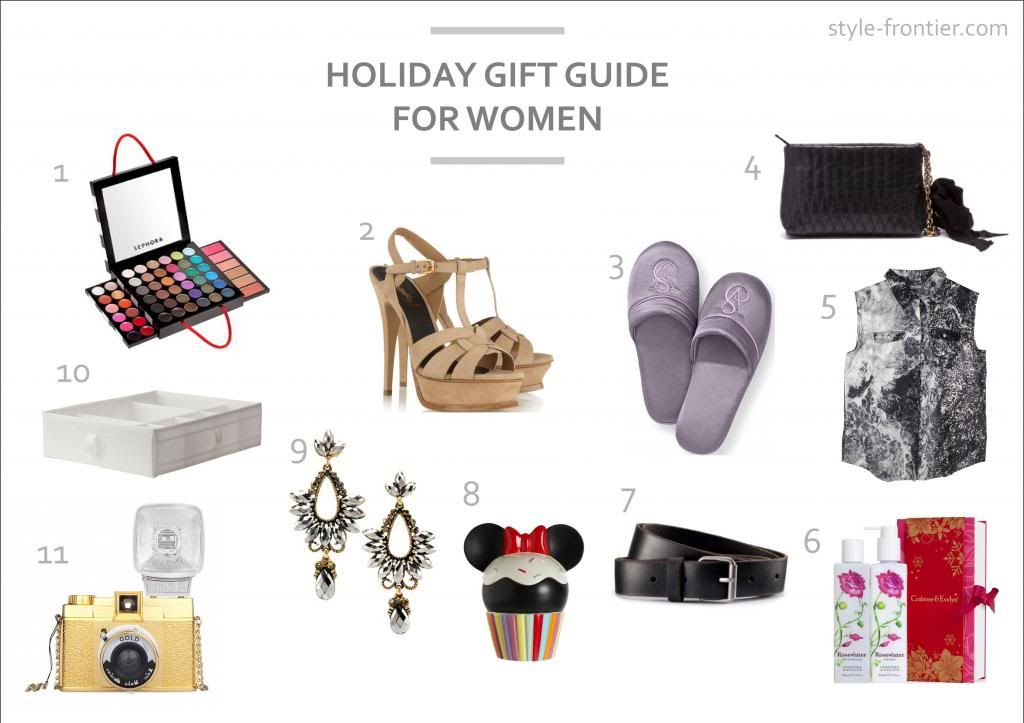 1. Sephora medium make up kit is such a powerful set for the make up fans or beauty bloggers alike. SGD 39 via Sephora

2. Yves Saint Laurent tribute suede sandals in nude is an everlasting pair of heels that will never go out of style. $875 via Net a porter

3. Victoria's Secret satin slippers in lilac. Warm feet are happy feet and this soft pair will make you look stylish even in your relaxing day at home. $15 via Victoria's Secret

4. Lanvin happy flat clutch in calfskin is a wonderful arm candy for your new year party or next event in 2013. The black hue makes it versatile and easily matched with your gowns. $754 via Lanvin

5. Nikicio wave print sleveless shirt is a trendy piece that captures the beautiful photograph by Evelyn Pritt. Pair it with different pieces in your wardrobe to create your signature look. $95 via Eriin

6. Crabtree Evelyn rosewater perfect pair is an essential for smooth and healthy skin. Equipped with rosewater extract, not only it feels good when applied but also has elegant scent. $38 via Crabtree Evelyn.

7. H&M leather belt is such a great steal for full leather accessories. The simple style will match boyish look or trendy outfit. $12.95 via H&M

8. Minnie mouse ceramic cookie jar is an interesting pieces from Barneys' Electric Holiday campaign. Get this for the inspiring baker for them to store the christmas cookies. The adorable shape and design doubles as table decorator for the festive season. $148 via Barneys

9. midnight empress earrings is such an adorable pair that can be worn in various occasions. The jewellery lovers would not reject the irresistible charm of the antique gold hardware and hematite stones. $28 via Olive and Piper

10. Ikea skubb box with compartments is a perfect gift for the serial organizer. It is wonderful to be places on the shelves, drawer, or even on the table to make everything neat on its place. $8 via IKEA.

11. Diana F+ Gold edition is the newest addition to the lomography camera family. With undoubtable performance of Diana added with the gold design, this piece would be coveted by the photography enthusiast and those who are starting to do analogue photography. Remember the rule of thumb for lomography, don't think just shoot and have fun! SGD 198 via lomography.

The clock is ticking, it will be christmas soon, but for those who are still looking for last minute gift, I will lend you a hand. As the continuation for the gift guide on the previous post, now I want to share some gifts that will be coveted by your girl best friends, sisters, mother, or even might be useful for the guys who are looking gifts for your girlfriend.