Even if we don't have the power to choose where we come from,
we can still choose where we go from there.
We can still do things. And we can try to feel okay about them
- The perks of being a wallflower
blacktreeshop sling bag. h&m hat. mds outerwear. shop style frontier skirt. zara top and wedges.
Been loving printed items lately. I regard it as a new fresh style for 2014 as I rarely wore printed or bright colour items. That's why I was exceptionally happy when Blacktree Shop gifted me with this oil painting style floral sling bag. Blacktree Shop is an online store based in Jakarta which sells accessories like affordable jewellery and bags with pre order system. Check their page here.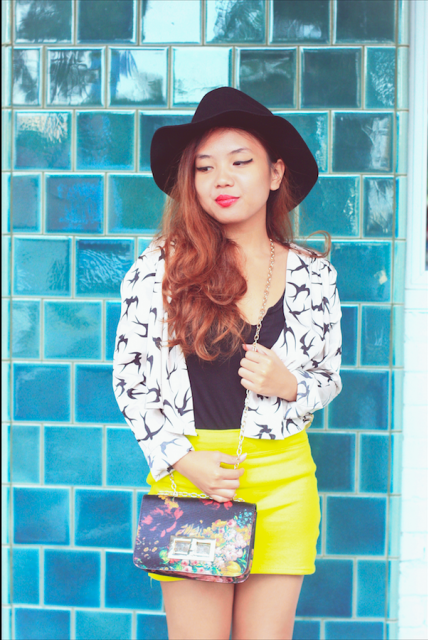 Hope you guys had fun during Chinese New Year. I was too happy filled with too much pineapple tarts and bakkwa! Will post the CNY outfit on the next post. Been settling for a while in Jakarta and somehow still adjusting myself to the city. It's a very different feeling from Singapore, but you know that home is where your heart is.
FOLLOW
∣
twitter
∣
pinterest
∣
lookbook
∣
instagram